Eva had one too many scares. For months, she and her 6 kids suffered from chronic respiratory issues. Her youngest, two-year-old Ana Maria, was in the worst shape. After rushing Ana Maria to the emergency room for the third time, Eva came to People's looking for relief. They met with multiple pediatric specialists, each who looked for the root cause of the family's illness.
It became clear that an unsafe living condition, particularly mold, was endangering the family's health. For help, the physicians called on Keegan Warren, JD, an attorney at the Austin Medical-Legal Partnership (AMLP).
The AMLP recognizes that good health depends on many factors outside of the exam room. Social and legal determinants of health – like housing and work conditions, or barriers to receiving disability benefits – effect health in tremendous ways, sometimes even more than the clinical care they receive. Often, a legal intervention is needed to address these health-harming situations. As part of the AMLP, attorneys are housed at People's, and patients are referred to attorneys if they need legal help to improve their health.
Keegan learned that rains from Hurricane Harvey had flooded the family's apartment, but property managers had not addressed the resulting mold infestation. Mold in the walls, floor, and furniture had contributed to debilitating – and dangerous – respiratory problems.
With Keegan's help, the family took the apartment owners to court, which forced them to address the substandard conditions. Eva was assured that with the Keegan's protection, the apartment owners would not evict the family or take any other retaliatory actions. As a result, the family was able to move to a new, clean apartment. The children's health issues resolved slowly, and Eva's family began the process of healing – this time, in a home with fresh air.
People's Community Clinic proudly presents a one-night-only event with guitar legends Christopher Cross, Eric Johnson and Monte Montgomery on Thursday, January 17, 2019, at 8 p.m. at the Paramount Theatre at 713 Congress Avenue in Austin. The concert will feature individual and group sets from the three guitarists. Proceeds from the evening will benefit People's, supporting our mission to provide quality, affordable health care for Central Texans in need.
"People's is thrilled to have this star-studded lineup perform on our behalf," said Regina Rogoff, CEO of People's Community Clinic. "Whether you're already a fan or just a music lover, you're in for an enormous treat. Individually, their performances are already jaw-dropping and award-winning. Having all three on stage will be epic. We expect the show to sell out, so don't miss a chance to be a part of a memorable and uniquely Austin event."
Tickets are on sale now for $35-75, with VIP seating available for $250, limited availability. To purchase tickets, click here. For more information, please contact Joy at JoyA@austinpcc.org.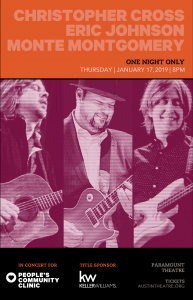 ABOUT THE ARTISTS
Christopher Cross

Christopher Cross made history with his self-titled debut album, winning five Grammy Awards, including — for the first time ever — the four most prestigious awards: Record of the Year (for the single "Sailing"), Album of the Year, Song of the Year (also for "Sailing"), and Best New Artist. After that extraordinary launch onto the music scene, Cross continues to be a prolific artist. His 2018 album, Take Me As I Am, focuses on his guitar playing and features music greats such as Keith Carlock and Will Lee— a combination of talent which is sure to please his loyal fan base. For more information on Christopher Cross, visit www.christophercross.com.
Eric Johnson

Eric Johnson leapt to the forefront of contemporary music some 20 years ago with his landmark album Ah Via Musicom. Lauded as a "recording [that] has reached near-classic proportions within the guitar community" by All Music Guide, it was preceded by dedicated groundwork as a live performer that marked him as a talent bound for great things. It's been followed by a diverse and fascinating musical journey. Johnson is currently touring in celebration of the anniversary of his release Ah Via Musicom, which was certified platinum-plus and launched Eric's signature hit "Cliffs Of Dover," which won the Grammy for Best Rock Instrumental Performance. For more information on Eric Johnson, visit www.ericjohnson.com.
Monte Montgomery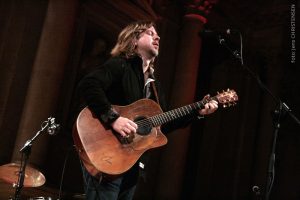 From the time of his debut performance on a segment of Austin City Limits, Monte Montgomery has traveled on a rock n' roll journey gilded with outstanding accomplishments. He was named one of the "Top 50 All-Time Greatest Guitar Players" by Guitar Player magazine and won the Austin Music Awards "Best Acoustic Guitar" award 7 years in a row. Now with the release of his album, "Monte Montgomery," he cements his place as both a blazingly electrified acoustic guitarist and also a rare triple threat: songwriter, singer and master musician. For more information on Monte Montgomery, visit www.montemontgomery.net.
OUR OUTSTANDING SPONSORS FOR THIS EVENT
TITLE SPONSOR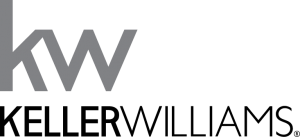 VIRTUOSO
Louis Black
AUDIOPHILE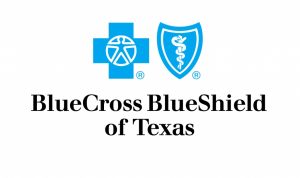 TONE CLUB

Michele Moore
E. Lee Parsley
Janis & Joe Pinnelli
Daniel Tambasco
For more on sponsoring this event, please contact Joy at JoyA@austinpcc.org.